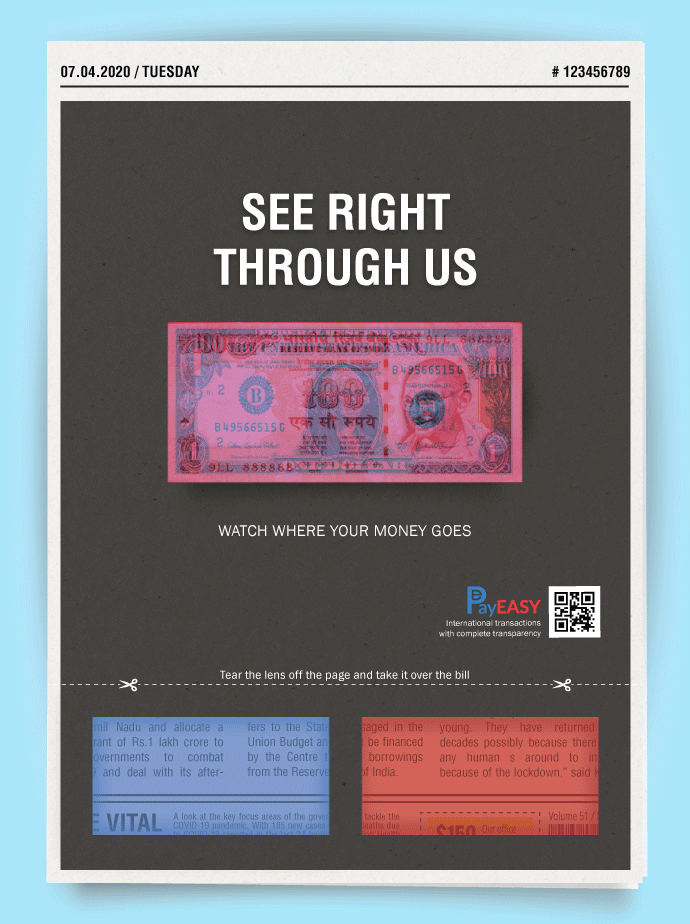 PayEasy
is the fourth entrant in the online payment service space, which is already crowded and cluttered a market. A subsidiary of its US parent, the brand has the fund to make inroads in the Indian market, which being able to make international transactions easier. The main object is for
PayEasy
to establish credibility and create preference in an already highly penetrated market.
PayEasy
is an online gateway that facilitated safe and transparent international transactions.
The visual leverages the concept of a 3D Anaglyph which is a stereoscopic effect that is achieved by means of encoding the image using filters of chromatically opposite colors, typically red and cyan.
The interactive nature of the ad through the use of the filters to view the visual with clarity, conveys easy access and transparency of the bills on the advertisement. The bills here imply international transactions and how
PayEasy
declutters and breaks it down for its customers.
The ad is placed on the first page of the newspaper, with a perforation provided in the lower part of the page. This part of ad has two filters attached to it, which the audience can tear out and use in order to see the main graphic on the advertisement clearly.